The G-spot or Grafenberg spot is a small area on the front (anterior) wall of the vagina. It is an area of increased sensitivity that when stimulated can lead to strong sexual arousal, powerful orgasms and female ejaculation.  The G-spot is typically located one to three inches up the front (anterior) wall of the vagina.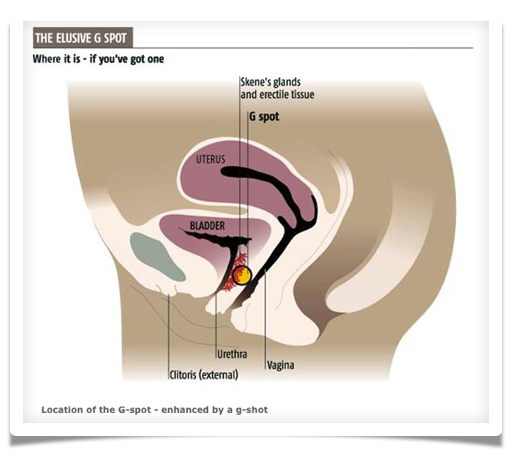 Many women find it difficult to reach orgasm through vaginal stimulation, but with an increase size and protrusion of the G-spot through G-spot amplification, vaginal orgasm can be easier to obtain. In a pilot study, 87% of women surveyed after receiving the G-shot reported enhanced sexual arousal and increased sexual gratification.
The G-Shot is a painless office procedure performed at Portica by Dr. Allen under local anesthesia.  The actual injection usually takes less then 1 minute and the total time in the examination room is usually less than 20 minutes.  A specially designed speculum is used to assist in the delivery of a specified amount of soft tissue filler directly into the G-spot after local anesthesia.
The G-shot augments and enlarges the G-Spot.  This results in a G-Spot that is about the size of a quarter in width, and projects into the vagina about one fourth of an inch.  The increased size of the G-spot after amplification increases stimulation of the area during intercourse which increases arousal and ease of vaginal orgasm.
The effects of the G-shot typically lasts 4 to 6 months.  Women who have experienced a vaginal orgasm and who already note sensitivity inside the vaginal wall are more likely to have positive effects from the G-shot.  Dr. Allen is happy to meet and consult with you to see if you are a candidate for the G-shot and if you are likely to benefit from this procedure.
If you'd like to meet Dr. Allen or schedule a consultation, please contact us soon!  We look forward to meeting you and introducing our staff.  We offer confidential consults and provide the most comfortable atmosphere.