VASER High Definition Liposuction
Why High Definition Liposuction?
In recent decades a muscular, lean appearing body physique has become considered the ideal body shape by mainstream culture.  Having toned muscles with a lean angular look is a goal to which many aspire and few obtain.  Healthy low calorie diets combined with intense exercise can create this look for some individuals.  For others a six-pack abdomen, muscular pecs and muscular round buttocks are impossible goals no matter the extremes gone to with diet and exercise.
The most common reason a person lacks a defined muscular look is that the fat layer overlying the muscles obscures the definition of the muscles underneath.  No matter how much muscle tissue an individual has, if there is a storage area of fat above it, the resulting look will not be as angular and athletic appearing.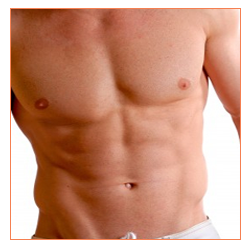 Most forms of liposuction, although effective for removing fat and generally making an area on a person's body smaller, do not create a muscular or defined appearance in the surgical area.  Traditional liposuction in particular does not create a muscular look as the liposuction needs to be kept to the deep fat in order to avoid lumps and bumps.
How is High Definition liposuction possible? 
In the last decade several things occurred to make it possible for a person to gain a sculpted athletic look with the aid of liposuction. First, liposuction technology has greatly improved with the use of tumescent anesthesia, smaller cannulas and technology such as the VASER. These technical improvements make it possible for a skilled surgeon to actually "etch" out or augment the natural shapes of muscles, tendons and insertions of each through selective removal of fat.
In both the male and female patient the muscles and ligaments of the abdomen are augmented and defined via a detailed etching technique.  In men the pectoralis major muscle can be augmented with artistically placed fat to appear toned and buff, and in women the buttock can be augmented with sculpturally placed fat to appear more round, youthful and muscular.
Why choose Dr. Allen for your High Definition Liposuction?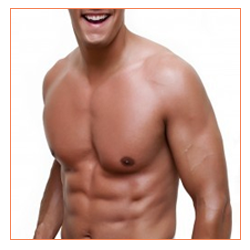 Dr. Allen is one of few surgeons in the country who have the skill to perform high definition liposuction.   A keen awareness of the underlying anatomy is crucial to the skill. Having experience and excellent technical skill with both the VASER and the micro cannulas to finesse and augment the underlying contour of the muscles, tendons and bony insertions is also of utmost importance for a good cosmetic outcome.  A skilled artistic eye is a rare yet essential quality to perform high definition liposuction.  Results of High Definition Liposuction are highly surgeon dependent and are strongly based on the technical skills and artistic eye of the surgeon performing the work.
Dr. Allen has studied the female and male deep and surface anatomy, and honed her technical and artistic skills with much practice and work.  She is able to create muscular, athletic looks for her patients who want to enjoy a sculpted defined physique.
If you'd like to meet Dr. Allen or schedule a consultation, please contact us soon!  We look forward to meeting you and introducing our staff.  We offer confidential consults and provide the most comfortable atmosphere.